Walk-in tubs are gaining in popularity, with many people of all ages enjoying the relaxing and rejuvenating benefits of hydrotherapy. Walk-in tubs have come a very long way in recent years and are much like mini-hot tubs, but without the tedious care of balancing chemicals and filtering the water.
While there are many, many styles, sizes and options to choose from, all walk-in tubs have an entry door that is fitted with a heavy-duty gasket. Typically, there is a lever on either the inside or outside of the door that when turned, applies pressure to close the door and create a water-tight seal. The bather sits on the tub seat, turns on the water, then adjusts it for personal choice of temperature. In-line heaters keep the water at a consistent temperature.. Newer models have a quick-fill and quick drain feature, allowing the tub to fill quickly, and also to drain quickly to prevent having to sit freezing in the tub since you can't exit and open the door until all the water is drained.
Other really great features you can find in walk-in tubs are:
Heated seats
Fast fill
Gravity driven dual drain system for fast draining
Recirculating, in-line water heater
Hydro Jets
Microbubbles
Swivel trays for ipads, drinks or phones
Use of epsom salts
Aroma therapy options
Foot massage
Grab bars
Frosted glass doors
Inward or outward swinging doors
L-shaped doors
Shower options
Plus many different sizes, from single cube style to oversized two-person tubs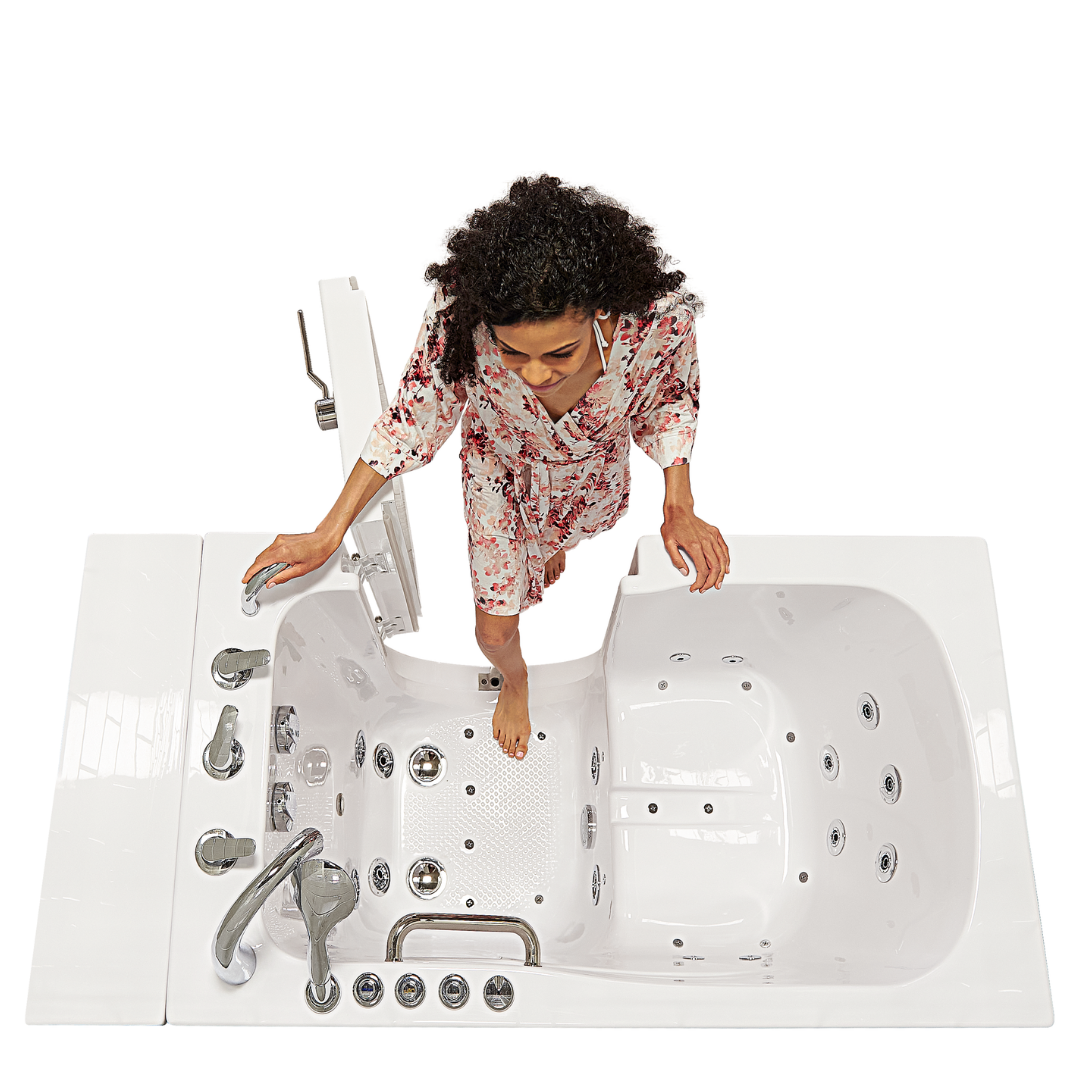 Below is a video from Jacuzzi that shows a walk-in tub in action. I should mention here that the video says Jacuzzi tubs have a limited 2-year warranty. But if this is purchased and installed through SIR Home Improvements, it comes with a transferable lifetime warranty. But that applies to all of our products and services, not just walk-in tubs. SIR carries other brands as well, so there is a plethora of choices, options, styles, sizes and price points. There's even a two-person walk-in tub for couples, or if you just want to stretch out.